Well I've had quite an adventure here in Seim Reap, really loved and felt appreciated with my mediations and teaching, reaped up the amazing energy from the temples and of this land, had blessings from monks, captured some beautiful images and footage. When we last communicated I had just placed the first crystal, for the rest of the stay I was looking for the 2nd spot. I got the feeling the 1st crystal was a masculine energy and this second a feminine. So I went to the obvious place Banteay Srei, a women's temple. It was beautiful and the energy there was peaceful and melodic but to wasn't the spot, I wasn't feeling it. Then I went back to east side of Angkor Wat and was given no direction there either (apart from being majorly impressed - lol) So I thought oh well maybe I'm only meant to leave the one... Maybe I'm to keep this crystal and work with it some more. Then I had my 'atlas correction' opening to the mouth of god and I had strong direction that I was to place the crystal in one of the first temples. I researched and narrowed it down and decided that Phnom Bakeng was where I needed to go. It had all the right numbers and was cosmically aligned, and I felt drawn there. So before I went to the airport I has the driver take me there, it was peaceful and beautiful. I could hear the birds singing, there was magic around! I called in for assistance from all PC the kingdoms to give me clear signs as to where to leave the crystal and proceeded to take some photos enjoying myself as I climbed the mountains.
I noticed on the way up at a west viewing point that overlooked the water in the distance and there were lots of signs that this may be the spot.
Nevertheless I went all the way up there was a small Buddha at the top to pray to, some incense, it was very picturesque and felt like the right place, I had some time to myself up there and just as I was about to step into a forbidden temple a guard popped his head out!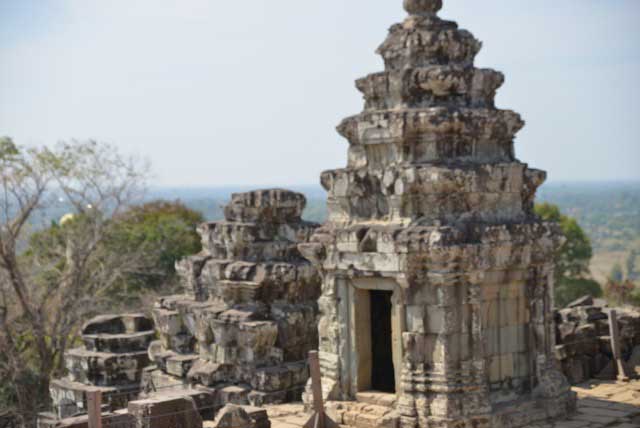 So I made my away back down and thought that maybe I was meant to keep working with the crystal after all... Then just before hitting the western lookout spot birds started calling and my left hand tingling, so I thought ok double confirmation however there were about 20 people there. I stood behind them looking out towards the lathe body of water and realised that I was to be the point of light. Within my mind I once more invoked the elements, all of the kingdoms, the ascended masters, celestial beings, spirit guides angelic beings, Devi and asked that they assist me in drawing down the light and connecting it with the great mother there. My left hand vibrated and it felt as if both feet were 'stuck'. Or 'ground' into the floor. I couldn't move for about 5 mins the charge remained. The 'sightseers' walked around me and I had the wands in my bag. This seemed the way spirit wanted it though... I realised that this was the feminine charge and I am female that is why the swords were not needed.. It was a great learning curve to do this work amongst others! Then I could release my feet and walked over to the platform. I took some images of a beautiful spiders web, and was greeted by a small lizard. I took these as signs that I had done the right thing.. Yet I still had the crystal... Again. I thought ok great I get to keep it and play with it, but no it was meant to stay As I walked back down the hill I was directed to a large snake or lizard hole so I threw the crystal down there for the reptile kingdom to again care for us! I walked off smiling and felt very charged yet peaceful :-)
Abundant and infinite gratitude for allowing me to partake in this amazing work... About to board so time to go! PS are there POL in Laos? Been invited there now in June :-)